How do I edit a survey question?
You can edit your survey questions before you send your survey.
To edit a survey question:
On the menu on the left, click Pledge Questions.
Find the survey question you want to edit and click the edit link.
Edit the question text, answer choices, or the backers who see the question.
Click Save Pledge Question.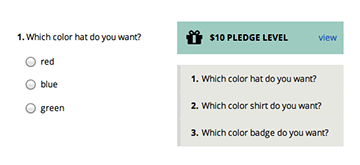 What are pledge questions?
Pledge questions are used to gather information from your backers in each pledge level. Each response can be associated to a specific item, and each pledge level can be asked their own set of questions.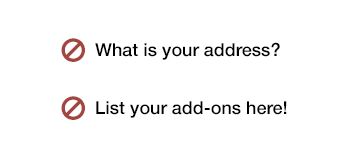 Pledge questions that you don't have to create.
What is your shipping address?
Your backers will automatically be asked for their shipping address in the survey unless otherwise specified on the Pledge Level page.
Did you pledged more for add-ons during the campaign? List the add-ons here!
You will not need to ask this question because this is handled with the add-on feature.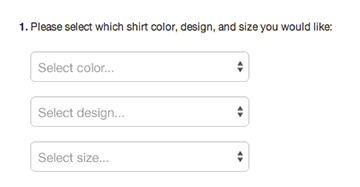 How do I set up questions for an item with many options?
If you haven't already, we recommend using the Item Generator under Step 2 of your setup to create SKUs, Pledge Questions and Add-ons all in one step.
If you have already created SKUs, and you have an item with different colors, designs, and sizes, which may result in more than one question to figure out the exact item that backers want:
What color shirt do you want? Choices: Red, Blue, Yellow
What design shirt do you want? Choices: Dragons, Doves
What size shirt do you want? Choices: S, M, L
The correct way to format the question for the item above is to create a single question with all available options and choices (do not create multiple questions asking for each option):
Please select what shirt color, design and size you would like:
Option: Color - Choices: Red, Blue, Yellow
Option: Design - Choices: Dragons, Doves

Option: Size - Choices: S, M, L